Benefits of Chiropractic Care
How Your Chiropractors Can Help
At Fraum Center for Restorative Health, we take great pride in being your trusted Hilton Head Island chiropractors. We hope you'll take the time to become better informed regarding the many benefits skilled chiropractic care can provide you.
Find Relief from Acute Pain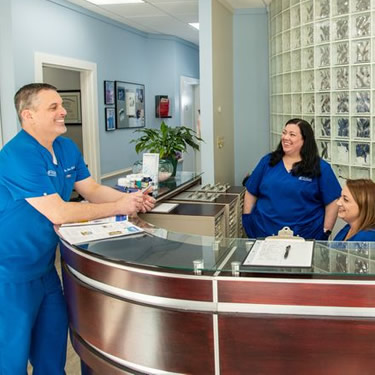 Are you suffering from ongoing pain caused by a condition like sciatica, arthritis, or even a herniated disc? If so, then Hilton Head Island chiropractic care could help you find much-needed relief. Specifically, chiropractic techniques like spinal decompression and spinal adjustment can help to relieve pain. For example, if you suffer from sciatica, there is excess pressure being placed on your sciatic nerve and that is likely what is causing your pain. With spinal decompression therapy, we work to relieve the excessive pressure on your sciatic nerve by decompressing the vertebrae in the spine. This can also be an effective treatment for those with herniated or bulging discs.
If you're suffering from ongoing pain, we highly recommend you meet with our team so we can determine the proper course of treatment.
Non-Surgical, Drug-Free Treatment
Another benefit of chiropractic care is that it's non-invasive and doesn't involve the use of medications. If you have been told that you need surgery or another invasive treatment for your condition, please do yourself a favor and speak with a chiropractor. The same applies if you have been prescribed medication that has resulted in negative side effects. Through skilled chiropractic care, you may be able to find relief from your symptoms without the complications or risks.
It's also worth mentioning that chiropractic care works to treat the source of your symptoms, rather than making the symptoms themselves. In this sense, chiropractic treatments work to find long-term relief, rather than simply putting a "bandage" over the problem.
Improves Overall Health and Function
Finally, even if you're not suffering from any pain or other symptoms, chiropractic care can benefit your health in a number of ways. For instance, did you know that regular spinal adjustments can help improve the function of your central-nervous system and improve circulation? As a result, you may feel more alert, energized, and happier in general. Chiropractic spinal adjustments are also highly recommended for pregnant women to make labor easier and to ensure a more comfortable pregnancy.
At our chiropractic clinic, we may also be able to provide you with valuable lifestyle advice to improve your overall health and wellness, along with showing you some exercises you can perform in the comfort of your own home to improve your posture and spinal health.
Schedule an Appointment with Hilton Head Island Chiropractors Today
Whether you're suffering from pain or are simply interested in seeing how chiropractic care can help you lead a better life, we invite you to call Fraum Center for Restorative Health today at (843) 681-7777 to request your appointment.
We'll work to find an appointment date and time that works with your schedule. Reach out to us!
---
Benefits of Chiropractic Care | (843) 681-7777