Non-Surgical Disc Decompression in Hilton Head Island
Get Same-Day Back Pain Relief at Fraum Center for Restorative Health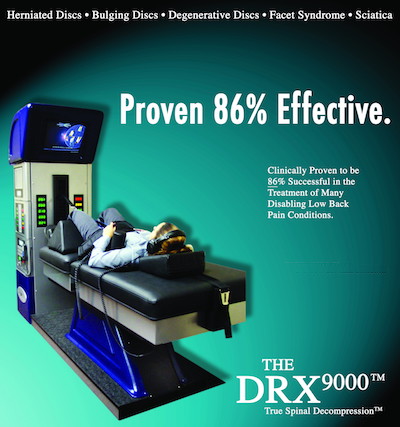 Fraum Center for Restorative Health is the only Lowcountry health facility to offer the FDA cleared DRX9000™ True Non-Surgical Spinal Decompression™ DRX9000 Spinal Decompression Machine
Each of us is constantly in a battle-with gravity! A frequent casualty is the soft disc material that separates each spinal bone. Pressure from our weight, trauma from an accident and other causes can increase the pressure on a weakened disc. Spinal decompression can help.
This highly advanced treatment is noninvasive and has been found to provide relief of back and neck pain and symptoms associated with herniated discs, bulging discs, protruding discs, degenerative disc disease, posterior facet syndrome, and sciatica.
For a limited time we are offering a FREE MRI Review.
Call (843) 681-7777 or book an appointment online now!
---
We Are Open To Keep You Well During COVID-19
We are open and accepting new patient appointments!Over the last few weeks we have implemented enhanced systems and safety protocols to make sure each patient gets the care they need, while remaining safe. This includes- sanitizing our office throughout the day and we have altered patient scheduling allowing more time in between each patient so we don't have an occupied waiting room.
We are constantly monitoring COVID-19 updates and always following CDC and DHEC recommendations and guidelines.
We are here to help you be your best.
---
Back Pain Treatment Without Surgery
Leading Hilton Head Island chiropractor, Dr. Brad Fraum, and his team of experienced doctors have had extensive post graduate training on the DRX9000™. This state-of-the-art technology has been researched and approved at John Hopkins University, The Mayo Clinic and Duke University of Medicine.
So, what are you waiting for? Say goodby to back pain – call (843) 681-7777 now!
---
Claim Your Free MRI Review Now!
Please note that appointments are not confirmed until you receive a phone call from our office. Thank you!
---
Gentle Spinal Decompression Back Pain Relief In Hilton Head Island