CRYOFOS Cryotherapy Now In Hilton Head Island
Safe And Natural Pain Relief
As a way to stimulate the body's neuroreflexive responses to address pain, cryostimulation is safe, natural and non-invasive. It is quickly becoming the therapy of choice to combat acute or chronic pain.
Benefits of CRYOFOS Cryotherapy
Works faster and more effectively than ice packs
Offers immediate pain relief
Addresses acute and chronic pain
Decreases inflammation
Releases endorphins
Same day appointments available –
Call (843) 681-7777 or book an appointment online now!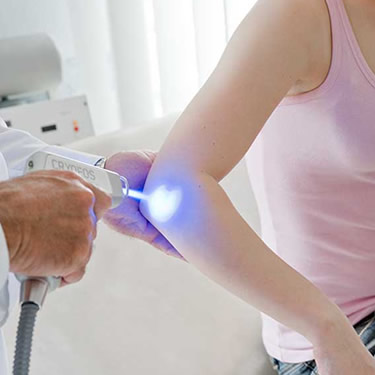 ---
We Are Open To Keep You Well During COVID-19
We are open and accepting new patient appointments!Over the last few weeks we have implemented enhanced systems and safety protocols to make sure each patient gets the care they need, while remaining safe. This includes- sanitizing our office throughout the day and we have altered patient scheduling allowing more time in between each patient so we don't have an occupied waiting room.We are constantly monitoring COVID-19 updates and always following CDC and DHEC recommendations and guidelines.We are here to help you be your best.
---
A Targeted, Versus Whole-Body Approach To Cryotherapy
With CRYOFOS cryotherapy, you won't be placed in a whole-body chamber. Some people may feel claustrophobic being enclosed in such a chamber. With the therapy we provide in our office, it's targeted, so we only use it on the areas that need it. For example, we may use it on the hand, low back or neck.
CRYOFOS Cryotherapy is suitable for patients of all ages, from children to seniors. Young athletes, for example, can get relief from their sports injuries with cryotherapy. Older adults can experience greater mobility after receiving treatment.
The average treatment session per patient lasts just 3 minutes, which can be easily accommodated in your consultation schedule, even at short notice.
Discover for yourself how cryotherapy may help you get out of pain and on the path to recovery and better health!
---
Book Your Appointment Online
Please note that appointments are not confirmed until you receive a phone call from our office. Thank you!
---
CRYOFOS Cryotherapy Serving Hilton Head Island, Bluffon And Surrounding Areas