Chiropractic Care
As your go-to Hilton Head Island chiropractors, our team at Fraum Center for Restorative Health is here to help you achieve optimal health and wellness through skilled chiropractic care.
Our techniques and methods can be used for pain relief, improvement in health and wellness, and treatment or management of any number of injuries and medical conditions.
More Than a Century of Positive Outcomes
Chiropractic care focuses on the careful treatment and manipulation of the spine to treat problems related to the body's central nervous system and musculoskeletal system. Specifically, chiropractic care is noninvasive and does not involve the use of medications or other drugs to treat symptoms. Instead, our techniques are used to target symptoms at the source and help patients find long-term relief.
For more than a century, chiropractic techniques have been used to help people manage and treat medical disorders, ensure better posture and improve overall wellness.
In some cases, chiropractic care is a less expensive and a better alternative to seeking care from a medical physician for neck and back pain. Studies show a potential savings of nearly $84 million per year across the United States by choosing chiropractic care.
Common Conditions and Injuries Treated
There are numerous conditions and injuries that can be effectively treated using chiropractic care. These include, but are not limited to
general neck and back pain
headaches and migraines
sports injuries
auto accident injuries, including whiplash
herniated/bulging discs
Common Treatments and Therapies Used
We offer a wide range of skilled chiropractic treatment in our chiropractic care center, all of which are noninvasive and natural. Some of the services we offer include
chiropractic adjustments
corrective exercises
nutritional counseling
spinal and postural screenings
spinal decompression therapy
electromedicine and horizontal therapy
One of the most common services we provide is that of the chiropractic adjustment. This technique works to carefully manipulate the spine to improve its alignment. In turn, this can effectively relieve symptoms, including ongoing neck and back pain, headaches and migraines and more. That's because, when the spine is properly aligned, the entire central nervous system is improved, and the body can function more efficiently.
Another common treatment featured in our office is spinal decompression therapy. We often recommend this advanced treatment for those suffering from a herniated disc or sciatica. These conditions are both caused by excessive pressure being placed on the vertebrae in the spine, causing discs to be forced out of place or for sciatic nerve pain to be triggered. By decompressing the vertebrae in the spine, we can achieve much-needed relief of pain and disc pressure.
We also offer state-of-the-art treatments including Hako-Med Horizontal Therapy. This treatment has been a breakthrough in helping patients with low back pain, neck pain, fibromyalgia, myofascial pain, overuse injuries, various kinds of headaches, muscle spasm, nerve pain, joint swelling, inflammation and many other conditions. Hako-Med is the most sophisticated form of electrotherapy available. Reduced pain and stiffness, and an increase in range of motion can be improved over time, sometimes in just a treatment or two.
Benefits of Chiropractic Care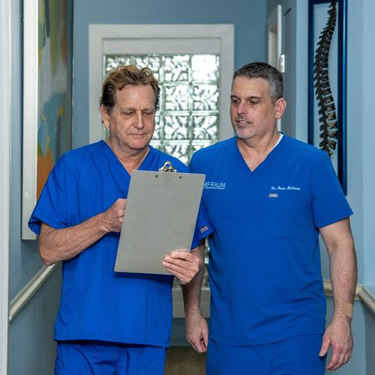 Most people are aware of the pain-reducing benefits of chiropractic care, but here are some other outstanding attributes:
Better sleep
Circulation improvement
Drug-free
Enhanced central nervous system function
Greater levels of happiness
Improved immune system function
Increased energy and mental alertness
Noninvasive
Safe, gentle and effective
Chiropractic spinal adjustments are also highly recommended for pregnant women to make labor easier and to ensure a more comfortable pregnancy.
Whether you're suffering from pain or are simply interested in seeing how chiropractic care can help you lead a better life, we invite you to contact our office to request an appointment. We'll work to find an appointment date and time that works with your schedule!
---
Chiropractic Care | (843) 681-7777