Auto Accident Care
We Specialize in Auto Injuries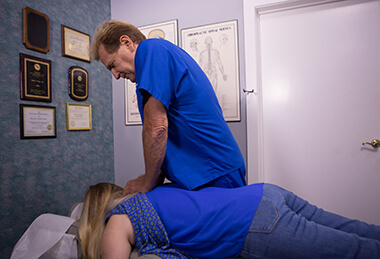 Your life has been changed since your auto injury. We understand that this type of injury can cause pain and hardship. Our goal is to help ease your pain, regain your mobility and help you recover.
We pay particular attention to injuries that are unique to auto collisions, such as whiplash and back and neck trauma that leads to headaches. Let us help you get the care you deserve to heal properly as a result of your accident.
Did you know that bodily damage from most auto accident injuries can go undetected for months or even years?
Most auto accident victims are unaware of hidden injuries because the pain is often masked by medications. Sadly, most doctors don't even have the training to detect soft tissue injuries, so they prescribe drugs to cover up symptoms. Insurance companies win because they get released from liability by requesting that victims settle their cases before they even get evaluated for soft tissue damage!
Soft Tissue Injuries Are Common
Any injury to the ligaments, tendons and muscles qualify as soft tissue injury. Symptoms often include
Fatigue
Headaches
Low back pain
Mid-back pain
Muscle spasm
Muscle stiffness
Neck pain
Numbness and tingling in the arms or legs
If a soft tissue injury goes untreated, patients are frequently at risk of developing arthritis and chronic pain. Don't settle with your insurance company until your injuries have been thoroughly documented and treated. Auto insurance pays for your treatment; care costs can be covered by insurance or upon settlement of the claim. You have the right to choose the doctor you want as your treating physician. See a Hilton Head Island auto accident care and chiropractic specialist that understands your injuries and the best way to treat them!
Our doctors have a combined 50+ years of experience in helping auto accident patients get out of pain and heal from injury. Contact Fraum Center for Restorative Health today to see how we can help.
Reach out to us for auto accident care in Hilton Head Island!
---
Auto Accident Care in Hilton Head Island, Bluffton SC | (843) 681-7777